The expression "drink and food keeps body and soul healthy" applies very much to the Nahe region and this is provided by the wine culture. Why else did star chef Johan Lafer take up his domicile in this area? Many taverns, wine festivals and even gourmet restaurants have been developed around the wine. In spite of the dominant wine production.
it is surprising that the region also offers some local beer brands as well, like Kirner Pils and Guldenbacher Pilsener. And there is a great variety in local courses: from a regional variation of fresh cream cheese (socalled spundekäs) up to ramson-sausage, no wish will remain unfulfilled.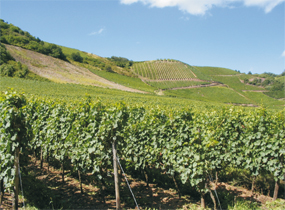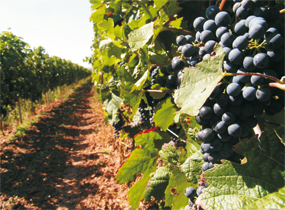 To enjoy more exotic courses you don't even have to leave the campsite, since our restaurant "Feldbahndepot" offers a number of fine indian and italian dishes. You may drink here local wine or a nice german beer. However, if you would like to eat somewhere else, please feel free to use one of the local gastronomic zeniths that we have selected for you. At our "wine-tips" you will find some of the recommendable local vineyards. At the socalled "Straußwirtschaften" winegrowers offer regional food at their estates several months a year. As you see, at the Nahe region you don't have to be hungry or thirsty!
At our wine selling at the reception we keep red, white or rosé Nahe-wine from Guldental for you. And surely we regularly offer wine tastings.