Both holiday homes are built at a large terrace at the border of our campingpark Lindelgrund. They have a nice view at the Guldenbachtal and on the village of Guldental. We have two architecturally interesting vacation homes, which might be be booked in conjunction as well.
The Woody Hut is located at a more central spot with view on the climbing tree.
The Woody Hut - small & basic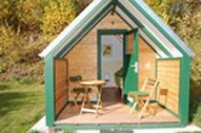 Alternativ to a tent
basic overnight stay for 2 persons
no pets allowed
water and electricity at the spot
sanitary block 1 minute hike from the hut
bring your own sleeping bag or bedlinen
smal fridge + water cooker
The Lindelhaus - comfort for 2-4 persons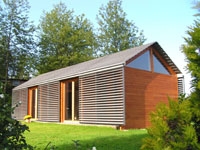 42m² living area
300 m² garden
comfort features
up to 4 persons (+1 baby)
suitable for allergy sufferer / no pets permitted
The Chalethaus - house with veranda for families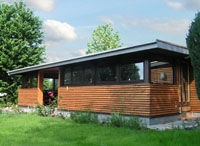 46 m² living area
parking place for 2 cars
16 m² veranda with garden furniture
up to 5 persons(+1 baby)
pets allowed
Combination of Lindelhaus and Chalethaus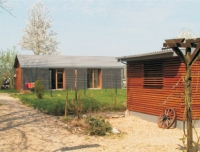 The neighbouring houses, Lindelhaus and Chalethaus, have nine beds (+1 for a baby). You may book these houses in conjucion. On the lawn between the houses you may set up a small tent (against additional fee). For groups with 9 persons maximum.