The Lindelhaus is named to the place where it has been built: the Lindelgrund. It is an exceptional house where you will feel at home! It has enough room for 4 persons having holidays. Remarkable is the architecture of the Lindelhaus with its large floor-to-ceiling windows and its metal sliding sunblinds. The inner room, with its 3.50 meters hight, is suffused with light. From here you have a lovely view over the valley of the Guldenbach.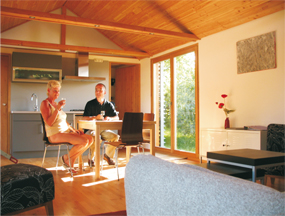 The Lindelhaus' interior equipment:
28 qm living area with kitchenette
Kitchenette equipment: oven, fridge, coffeemaker, toaster, drain cape. dining table
cosy lounge with TV and stereo
bedroom with full sized bunk bed and wardrobes
spacious bathroom with shower, toilet, towelwarmer
Floorheating and parquetfloor of beech wood
Upon request you may borrow bedlinen and towels for money.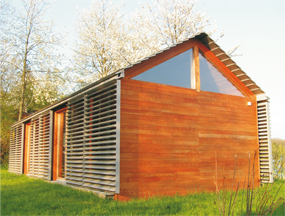 Auf Wunsch können Sie Bettgarnituren, Handtücher, Küchentücher gegen ein Entgelt ausleihen